My favorite image of her. One of many at least...
Bianca in vintage Halston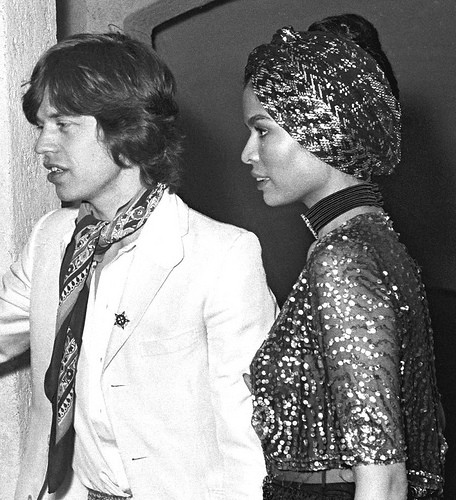 Bianca Jagger, a Nicaraguan born Bianca Pérez-Mora Macias, May 2, 1945 was famously known for being the first wife of Rolling Stones star Mick Jagger. She is the epitome of the "glamorous cool" that was bred from the 1970s. She was Studio 54 royalty.
Typically seen vacationing in Capri in Gucci, Bianca profiled with cutting-edge style and timeless class. However, underneath the glitz and glamor is a socially conscious woman who utilized her life of privilege to bring attention to world issues. From defending woman's rights in Latin America to helping Bosnian victims of ethnic cleansing, Bianca has been tirelessly campaigning for social justice for over twenty-five years. In addition, she is an active member of many humanitarian organizations. Working towards a better world while showcasing timelessly fabulous style.
She is absolutely divine. Besides Tina Chow, she is definitely on my numero uno style icons. For me, style is not about giving into the trends, but being able to have a style all your own that will transpire onto the next or several decades ahead. I mean, if you view and study these images of Mrs. Jagger, her style, her demeanor, and her circle of friends she was surrounded with, you would see she was only destined for greatness. On top of that she still managed to give a shit about worldly pressing matters at bay. Truly inspiring. This woman had it all and all together.
Note to self: Start scouring for fabulous head dresses.
-Monique